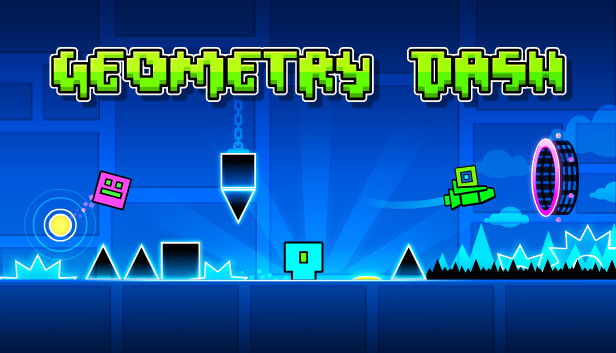 Geometry Dash
Challenge your jumping skills with Geometry Dash, an exciting and addictive music-arcade game featuring a little character with various forms! If you enjoy the challenge of Geometry Dash World, Geometry Dash will undoubtedly be your next favorite game to play!
Bounce your way past obstacles in Geometry Dash, the smash-hit arcade game that will keep you hooked for hours! Control a little character as it hops from one platform to another until it reaches the end of the levels. Pass through portals and change the form of your character, from a flying ship to a rolling wheel that can switch gravity at will, and there's so much more to discover!
Geometry Games collection is amazing to pass the time that you can think of! It takes less than a minute to learn how to play, and you need only a button to control your character. Mastering it, however, is another matter. As you progress in later levels, it is much more difficult to get to the end of them. If you have trouble getting past a level, give Practice mode a try!
Game Features
Rhythm-based Action Platforming!

Lots of levels with unique soundtracks!

Build and share your own levels using the level editor!

Unlock new icons and colors to customize your character!

Fly rockets, flip gravity, and much more!

Use practice mode to sharpen your skills!

Game Center achievements with rewards!

Challenge yourself with the near impossible!
How To Play
Use SPACE/UP Arrow to Jump
Use HOLD DOWN SPACE/UP Arrow to Multi-jump
Use UP Arrow to Steer vehicle up
Use DOWN Arrow to Steer vehicle down
Use Don't touch the spikes, or you will have to restart!
As you move through the levels, there are different sections with cool new tunes, colors, and abilities that require extra attention. It's a superb musical journey!