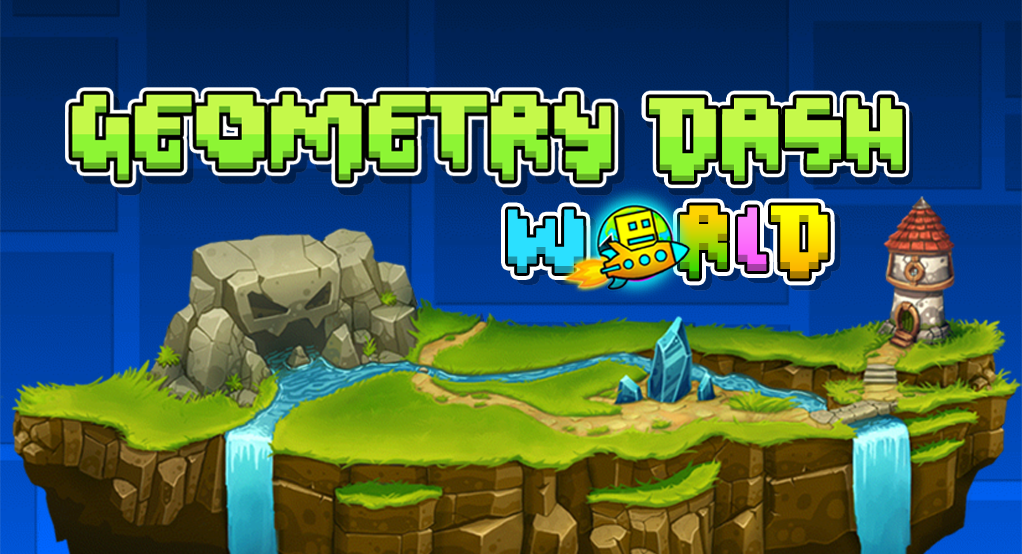 Geometry Dash World
Step into the vibrant world of Geometry Dash World and groove to the catchy music while bouncing from one platform to another! Start your adventure now!
Explore the Extraordinary Rhythm inside Geometry Dash World!
Get immersed in Geometry Dash World, the newest addition to the Geometry Dash franchise! Once again, lead your character through a series of unique obstacles and reach the end of all levels without crashing into the obstacles! Experience 10 brand-new levels with different gimmicks and discover all kinds of achievements along the way!
Gameplay Basics
Like the original game, Geometry Dash World gameplay has the goal of every level to lead the character to the end without touching any kind of obstacle. Whenever you collide into one accidentally, the level resets and you will have to begin your run once again. This game may have very simple controls, but it is extremely hard to master, so expect to make a few attempts while you try to progress through countless obstacles!
About Geometry Dash World levels, the game features ten different levels, which are divided into two main worlds: Dashland and Toxic Factory. Players have to complete levels in consecutive order to unlock the next ones. Below is the list of all levels:
Dashland
Payload

Beast Mode

Machina

Years

Frontlines
Toxic Factory
Space Pirates

Striker

Embers

Round 1

Monster Dance Off
In comparison to the first Geometry Dash game, the levels in this one take much less time to complete. Nevertheless, each level in Geometry Dash World online is much more polished, both in terms of catchy soundtracks and vibrant animation effects.
How To Play
In this Geometry Dash World full version free, begin your gaming session by clicking on the "Play" icon button. After that, you will notice that there are two islands, each with five levels. These levels appear in order based on their difficulties. You need to finish one level to unlock the next one. As such, Toxic Factory is not available until you have completed every level of Dashland.
You control the character by pressing the spacebar or clicking the left mouse button in a level of Geometry Dash World on PC. Doing that results in the character jumping or flying up, depending on the form it is in.
For example, in the normal Cube form, pressing the button once results in it jumping, and you can hold down the button to make it jump continuously. On the other hand, in Ship form, the character flies up every time you press the button. As you advance further, you will discover new forms of your character, so keep on playing!
In this game, each level has two modes: Normal and Practice.
Normal mode is the standard mode of gameplay with catchy music, but it requires players to have a perfect run without crashing into any obstacles.
With Practice Mode, you can have as many attempts as you want without having to start over from the beginning, but you still need to finish the level in Normal Mode to progress in the game.
Last but not least, you can personalize your character in the "Character" section of the main menu. Take a look, pick all the forms of the character, and customize the colors and different animations!
Rules
Lead the character to the end of each level to complete it.

If the character touches any obstacles, such as spikes or other objects, along the way, players will have to start the level from the beginning.

The form of the character and its movement can change depending on the portal it goes through.

The environment also changes throughout the level, depending on the portal the character passes through. This includes flipping the platform vertically or horizontally.
Geometry Dash World Features
Thrilling and addictive gameplay! You won't be able to stop playing!

Vibrant graphics with colorful animation!

Ten unique levels with catchy music from prominent game music producers!

Two different game modes: Normal and Practice!

Progress through levels to unlock more icons and customize your character!

Experience different forms of your character with unique movements and controls!

Brand new levels are available every day in the Daily section!

Play or contribute new levels to the online community!
Tips and Tricks
Practice makes perfect: Like any other music game, you may have to rely on your muscle memories to get through tricky parts, such as jumping immediately after getting past a portal. You will get better with each attempt!
Use the Practice Mode to know the layout of the level:

If you have played the first Geometry Dash game, chances are that you know how Practice Mode works. In this mode, as you advance through a level, the game automatically places "checkpoints". Whenever you collide with an obstacle, you will return to the nearest checkpoint instead of starting from the beginning. Fortunately, the levels in Geometry Dash World are fairly short, so you will complete them in no time! Be sure to play again in Normal Mode to unlock the next levels, though!

Take a break when you haven't been progressing for a while:

Sure, the game may be fun, but not so much when your attempt counter starts to add up. If you keep on repeating the same mistake in one part of the level, it is best to take a break and try again later!
Discover More Amazing Rhythm Games!
Have a knack for rhythm-based games and want to challenge yourself even further? Check out these games and vibe to the excellent music after play Geometry Dash World!
Happy gaming and keep on vibin'!