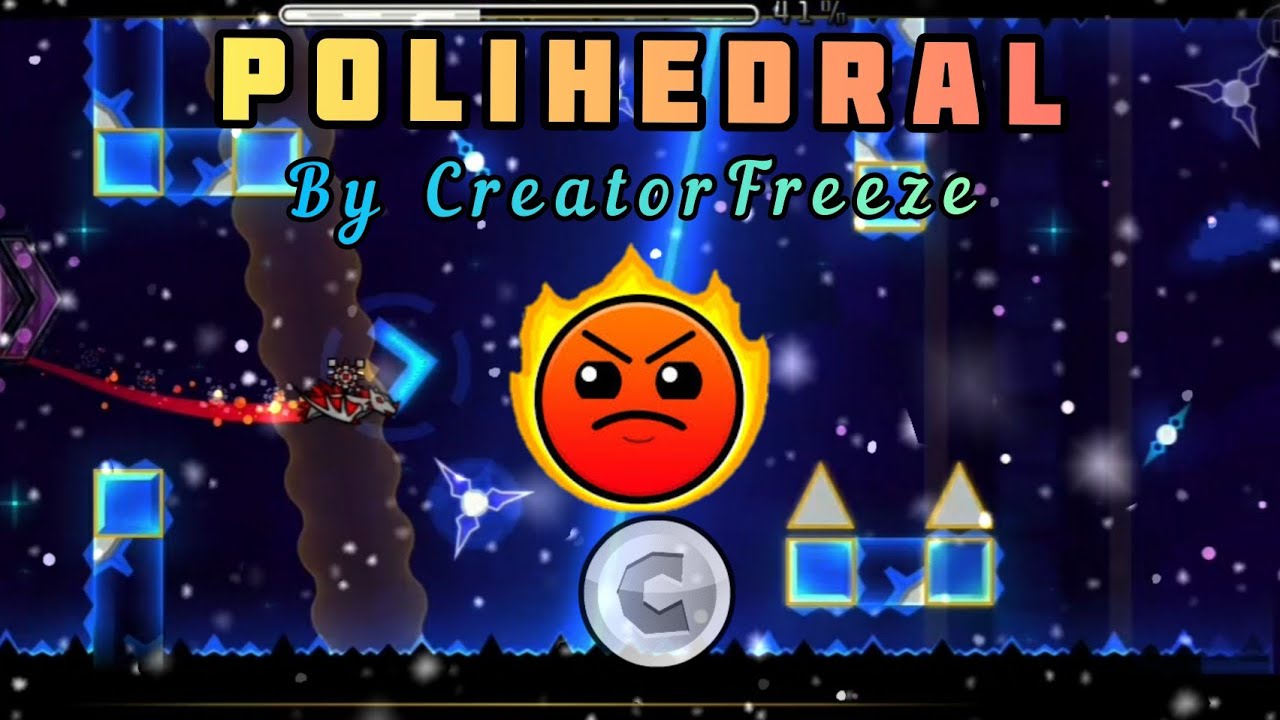 Geometry Dash Polihedral
The fifth and last level of the Ice Gauntlet, Geometry Dash Polihedral, is one of the best levels in the whole Gauntlet.
The Harder Geometry Dash Polihedral level, developed by CreatorFreeze, has a rating of 1 user coin and 6 stars. Polihedral has become one of the most popular levels for a variety of reasons. Not to mention the fun and difficult gameplay.
Geometry Dash Polihedral Gameplay
The first part of the level is a cube segment with jumps over pillars and tons of orbs. The design includes saw-blades and monsters perched in clouds, all constructed in various blue and indigo hues to resemble ice.

Then, for a slow-speed ball phase that mostly focuses on orb sequences, the decoration turns back to blue/indigo. With the exception of three orbs the player must strike, the level thereafter turns fully dark and automatic.

Similar to the first ship portion, the drop begins as a triple-speed ship segment where the player must steer around spikes and pillars. Before returning to triple speed, the ship briefly changes to medium speed for a brief straight-fly.

As the level progresses, there is a brief auto transition into a ball portion with timings and orbs, followed by a ship segment that alternates between regular and small sizes.
How To Play
The only coin is found at 86% in the ball area, right at the very top of the level and clearly visible. The player only needs to click once to place the coin on an invisible platform and then click once more to return to the main path.
This game includes one of the best songs, excellent music, and breathtaking effects. We heartily urge anyone looking for stars or a level with fantastic music to play this one!