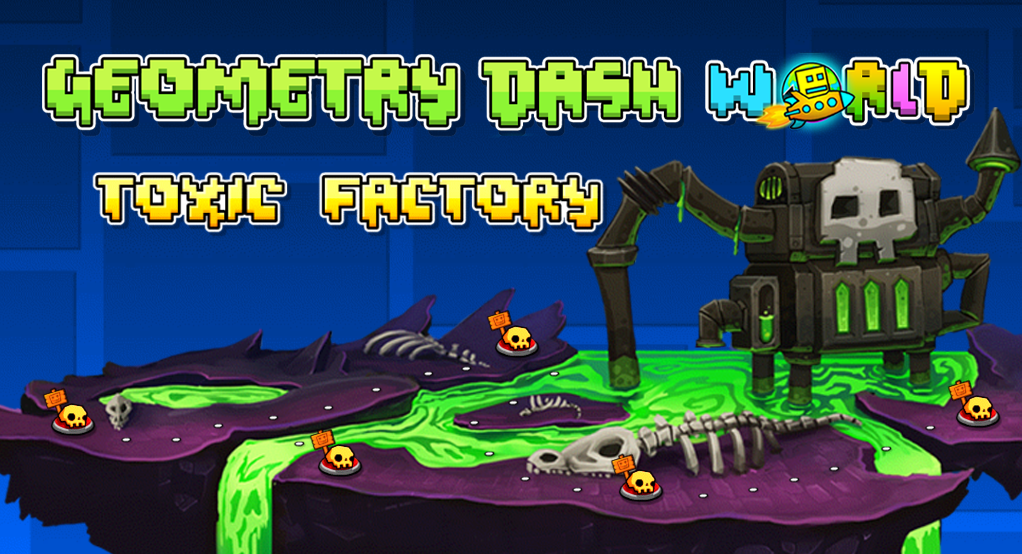 Geometry Dash World: Toxic Factory
Geometry Dash World: Toxic Factory
Geometry Dash World: Toxic Factory
Geometry Dash World: Toxic Factory is an upbeat arcade game featuring a hopping character and levels with countless obstacles. Show off your jumping skills now!
Step into the Wonderful and Dangerous World of Geometry Dash!
Show off your exceptional jumping skills and maneuver through a series of different obstacles in Geometry Dash World: Toxic Factory! As one of the newest additions to the highly popular Geometry Dash series, the game introduces you to yet another amazing adventure full of addictive tunes, vibrant animation, and surprising obstacles that will keep you on your toes all the time!
Geometry Dash World: Toxic Factory is one half of Geometry Dash World, featuring the harder levels of the game. The levels are also noticeably shorter than the ones from the original Geometry Dash, but they make up for it with extremely upbeat and colorful animations and catchy soundtracks. Be warned, though; you won't be able to stop playing this game once you pick it up!
How To Play
Begin your journey across the colorful track full of obstacles by clicking on the "Play" icon. Make your character jump by pressing the spacebar or the left mouse button. The character also moves differently based on its form, so progress in the game and discover unique controls for your character along the way!
Geometry Dash World: Toxic Factory has a total of 10 levels, as listed below:
Space Pirates

Striker

Embers

Round 1

Monster Dance Off
These levels are sorted based on their difficulty, with Space Pirates being the easiest and Monster Dance Off being the hardest. In addition, unlike the original Geometry Dash game, you need to complete one level in Normal Mode in order to unlock the next one. Try your best to finish them all!
Rules of Geometry Dash World: Toxic Factory
To complete a level, guide the character to the end without crashing into any obstacles.

In the event that your character collides with the obstacles, including spiky objects or walls, you will have to restart the level.

When your character passes through a portal, either its form and movement or the level's environment change.
Features
Extremely engaging and addictive gameplay!

Five distinctive levels with increasing difficulty!

Two game modes, Normal and Practice, so you can get used to each level before clearing it!

Listen to the soundtracks by popular game music producers and vibe to the rhythm!

Be ready to have different controls for your character throughout the level!
Tips and Tricks
Get to know the level's layout with Practice Mode:

As mentioned above, there are two modes for each level in Geometry Dash World: Toxic Factory. While you need to finish the level in Normal Mode in order to proceed, you can get used to the level's layout in Practice Mode. In this mode, the game will routinely place checkpoints throughout the level, so whenever you crash into any obstacle, you will return to the closest checkpoint.

Limit playing sessions for the best concentration:

Games like Geometry Dash World: Toxic Factory often require a great deal of concentration in order to be completed. Unfortunately, your concentration may be replaced by frustration as you try to get through a specific part of the level again and again. Hence, whenever you feel like the game is getting on your nerves, take a small break and try again later!

Never give up:

The game may be challenging, but it is not impossible to complete all levels. As long as you never give in, you will be able to finish them all!
Similar Games from the Geometry Dash Series
If you love Geometry Dash World: Toxic Factory, we have good news for you! There are plenty of games from the Geometry Dash series, so you can keep up with your jumping streak while listening to amazing soundtracks!